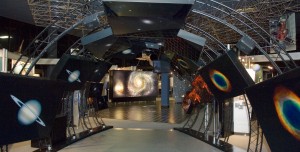 In a move to garner buzz and media attention, NASA's Goddard Space Flight Center in Greenbelt, MD is hosting a " Tour 'n' Tweet" this wednesday, October 27, 2010. The event promises to offer an exclusive opportunity to tweeting multimedia journalists, granting access to tour facilities of Goddard that are usually closed to visitors. [EDIT: Read our full Recap of the NASA Tour here] If selected, participants are asked to:
"Bring your camera and mobile devices to share your view of Goddard with the world via Twitter. Chosen photographers will tour state-of-the-art Goddard facilities that are typically beyond visitor clearance. Participants will get to experience Goddard first hand and tweet about it along the way."
The "Tour & Tweet" event is a part of the larger weeklong About A Week in the Life of Goddard program running Oct 23-29, which is a photojournalistic group effort showcasing employee lives at Goddard Space Flight Center. All Goddard employees are encouraged and invited to take photos during this week.
You can follow live tweets from the event by following the #tourntweet hashtag, follow the Twitter List we created, or just follow Captico's Twitter feed.
Agenda - Wednesday, October 27, 2010
9:15 a.m. – 9:55 a.m. Registration and Badge Pick-Up @ Goddard Visitor Center

9:30 a.m. Introduction to Goddard and Science on a Sphere

10:00 a.m. V.I.P. Campus Tour

11:00 a.m. Science Visualization Studio presentation at the Data Exploration Theater

11:45 p.m. Return to Visitor Center Exhibits, Rocket Garden, Displays and Gift Shop
Goddard Space Flight Center (8800 Greenbelt Rd, Greenbelt, MD)
The Goddard Space Flight Center was established on May 1, 1959, to honor Dr. Robert H. Goddard, known as the father of modern rocket propulsion. The Greenbelt campus is the hub for scientists, engineers and technicians building instruments and tools for space study and travel. In addition to the offices and labs, there is a visitors' center that is free to the public, filled with informative and interactive exhibits on climate change and even a Gemini capsule model. Check out the gift shop after your visit for space-related educational materials and postcards.
Tags: Corrie Davidson, goddard, Marketing, nasa, pr, public relations, tour and tweet, tweet, twitter