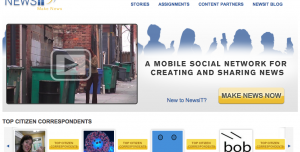 Today the beta version of DC-based journalism startup NewsiT is launching its first major news assignment, and is seeking volunteers to sign up and help them prove that it is possible and viable to create 'crowd-sourced' news of quality and impact using community contributions. NewsiT is a mobile social network for people who want to create and share news that's meaningful, trustworthy and riveting.
"NewsiT believes people want their news portable, personalized and participatory. Our mission is to 'reinvent' news content creation by engaging citizens as mobile reporters all collaborating via social networks to produce multimedia coverage of relevance, quality and value."
Their first official assignment is on DC Metro's fire safety and evacuation plans. To participate, just create a profile on the NewsiT.net site (use your real name and photo) or login via Facebook or Twitter. Then, accept a couple of text, photo or video tasks for the Metro assignment: Time yourself to see if you can get from platform to street in less than 4 minutes in rush hour; try to find and document stairways and emergency exits; map the broken escalators! (For all of us DC-ers, we are more than familiar with the headaches of metro and this is a great way to get involved.)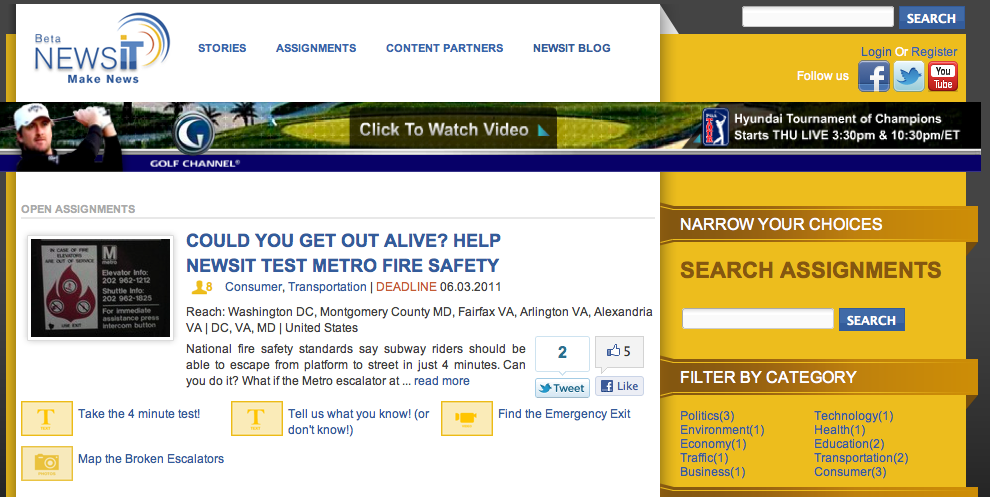 There are a number of other assignments to participate in, including bicycling, blood donation, internet scams, and nuclear power. You can even submit a story if you are at the right place at the right moment. If you have any problems at all with the site or with the assignment, they want to know. They are continuing to develop this summer – iPhone/Droid apps are coming soon – and so need your input. You can learn more on their website – check out their About NewsiT page for sure.
I think it sounds like a really cool way for citizen journalists to start formally sharing what so many of us are already documenting on Twitter, blogs, and other sites. It'll be interesting to see how the journalism community embraces NewsiT (I know NPR utilizes similar crowd-sourced data). I'm off to sign up and check it out.
UPDATE 5/26/11
So I signed up with NewsiT and I have to say, it was the easiest thing ever – it was two clicks. Having been already logged in to my Facebook account, I just clicked the Facebook icon to register, clicked yes when presented with the authentication screen, and I was in! So easy. It pulled in my photo, location, name, birthday, and gender. Once logged-in I can link my Twitter account as well. …There are definitely a lot of ads popping up on the site (not pop ups). Navigation is pretty easy and there is a high level of integration with both Facebook and Twitter… Hmm… looks like they need some work on their buttons though. When I clicked "Tweet" to share the Subway Fire metro Assignment with my Twitter followers, the only thing autopopulated in the Tweet box was a shortened url…

The Facebook "Like" Button appears to be working normally though – attaching the link, description, and a photo and allowing me the option of prefacing it with something…

Tags: application, citizen journalist, Corrie Davidson, facebook, journalism, mobile, mobile app, newsit, reporter, social network, startup, twitter, washington dc