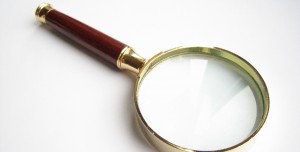 For those of us who have been using Twitter for years, small changes and adaptations are taken in stride and basic functions seem natural. So it is easy to forget (or gloss over) the nuances we have incorporated into our daily routines. This series of blog posts will take a close and explicit look at Twitter functions. Today we will look at sending public and private messages.
Previously in this series we looked at How to Post Updates to Twitter, and discussed the 140 character limit. We dissected The Anatomy of a Tweet, back in March, focusing on language like hashtags, retweets, replies, and the @ sign. This blog will build upon that, taking into account the changes as a result of "New Twitter".
Public vs Private Account

Before we get into individual tweet controls, lets first address the two types of accounts you can have on Twitter. When you set up your Twitter account, you could choose whether to make your account public or private. If you checked the "Protect My Tweets" box, then only people you manually approve can follow you or read your tweets. (You can always toggle this on and off under the Settings tab. Just know, if you turn it on now, your future tweets will not be available publicly, but tweets posted previously may still be publicly visible in some places.)
If you come across a user in a search or through a friend's timeline feed with a little grey lock next to their name, it means that user has "Protected Their Tweets" – as seen by @kaufecake's profile below.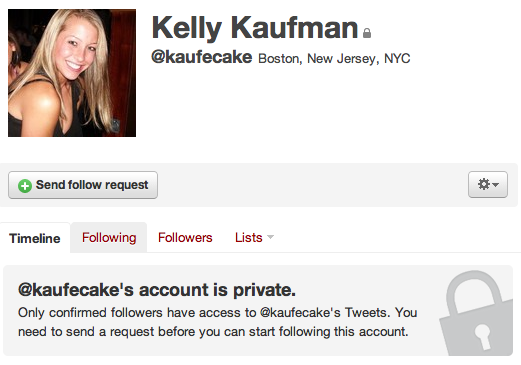 If you were to click on her [@kaufecake] name, you would be taken to her profile page (part of which is shown below) which gives you a limited amount of information. To see more, I would need to send a follow request which she would then have to approve. I can, however, publicly "mention" her – which we will get into later.
Private Messages on Twitter
Unless you have a Protected Account, just assume everything you post on Twitter is public. There is a specific way to send a private/direct message to another user on Twitter which is good if you need to send an email address or ask a question – or thank them for following you – but not everyone has this function turned on.
Lets say that you see a tweet from someone you follow and would like more info, but don't want to make your email address public… in this example lets use a tweet by @mlinson:
I click on her name in my timeline and a shortened version of her profile comes up in my right hand navigation. I see that she has a "Message" button which means that she accepts private/direct messages.

I click Message, and enter my question in the pop-up window that appears and hit Send. This message will not be publicly visible on my profile or timeline or her friends or my friends. It will only be visible to her and me.

If I want to view any Direct Messages that I have sent or that have been sent to me, I can click on the Messages tab in the top navigation bar at the top of your screen.

Public Messages on Twitter
As I said above, almost everything on Twitter is public in some way, but how and where your content surfaces differs depending on how you structure it. If YOU post a status update to Twitter, that tweet will be visible publicly on your timeline, on anyone who follows you's timeline, and in the fire hose that is the Twitter feed (if people do searches). The same is true for other Twitter users (if their accounts are public too).
Let's use @mlinson's tweet from above again as an example of how you can interact with other people's content. We already know you can directly message her, but what if I wanted to publicly do it? When you hover over a tweet in your timeline with your mouse, three options (Favorite, Retweet, and Reply) show up under the tweet. Clicking Favorite will add a tweet to my list of Favorites. If I click Reply, a new window pops up with the user's name already loaded up as well as a reminder of what they wrote for your reference:

If I enter anything into this box as prompted, then my message will be sent to @mlinson and will be visible on my profile timeline, but will NOT be sent out to my followers. We call this an "at reply" since it is a Reply leading with the username.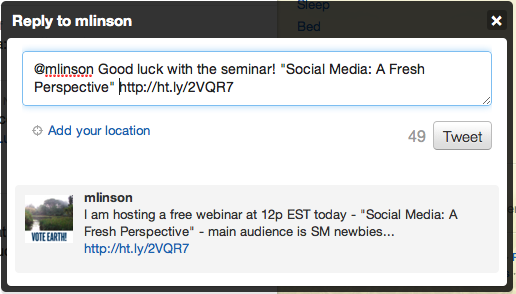 I have the option though to add text before the username. If I put anything before @mlinson then this "At Reply" will turn into a Mention. A "Mention" is considered anytime a @username is mentioned in a tweet. You can list multiple users in a tweet (however many will fit in 140 characters) and this is popular especially on fridays where the Twitterverse participates in "Follow Friday" recommending other users who their followers may be interested in following. You might also mention someone when giving them credit- if they posted a good link or something funny that you want to expound upon while giving them credit for orginating it. In this case, I have simply added "RT" which stands for "ReTweet" – meaning that I am re-posting what @mlinson posted, but it will post to my timeline from me/my account. I then copied and pasted the content I wanted and altered it to fit the 140 character limit.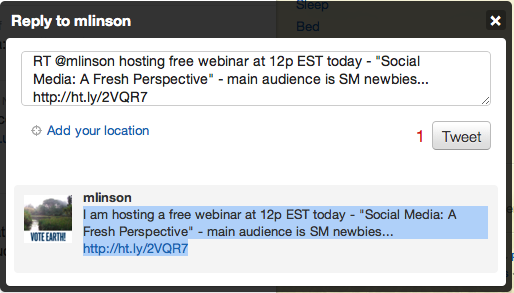 Due to the popularity of "Retweeting" Twitter actually incorporated a formal "Retweet" button right onto each tweet (as referenced earlier). Clicking the Retweet button yields a different result. If I were to click Retweet on @mlinson's post, this box would pop up:

Clicking Retweet here will send this out to my followers and make this visible on my profile timeline, but it will show up as if it is from @mlinson herself. The tweet will look like this in my timeline:

The green arrows in the left hand corner indicate (to me) that I have retweeted this. (Yellow would indicate that I had favorited it.)
Monitoring Mentions of Yourself on Twitter
Now that you know how people can interact with each other's content on Twitter, lets look at how you can keep track of it all (without using 3rd party applications). Under your primary "What's Happening" box are tabs that allow you to filter and access your content:

They are pretty self explanatory once you know how content on Twitter is organized…which is always chronologically (with the newest first)…
Timeline is a list of everything you and the people you follow are saying. This is different from your Profile Timeline which only shows your tweets (including public @replies and formal retweets).
@Mentions shows any tweet mentioning you, including @replies and regular mentions.
Retweets gives you the option to choose things people are retweeting, things you have retweeted, and most interestingly, things you have written that other people have retweeted.
Searches is a list of your saved searches.
Lists are the lists that you have created as well as a link to what lists you have been include on.
Did I miss something? Post your questions and comments below!!
Related Twitter Content:
Tags: Corrie Davidson, guide, how to, messaging, privacy, private, public, Social Media, social networking, tutorial, twitter