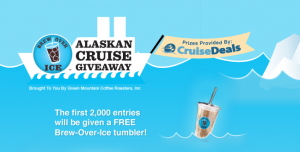 The latest marketer to embrace Twitter's Promoted "Trending Topic" ad space (at the estimated/rumored cost of $200k a pop) is single-cup-of-coffee brewing magnate Keurig (or more precisely Green Mountain Coffee Roasters who owns Keurig and many other popular coffee brands).
What Are Twitter Promoted Trends?
As we mentioned at their first launch (Twitter: Promoted Tweets and Trends… They're Heeeerrreee), Twitter's Promoted Trends gives advertisers a highly visible and coveted space on users' Twitter home pages in the "Trending" category. Topics that appear here normally, do so because a lot of people in that city, country, or the world (depending on your settings) are talking about a particular topic. If a celebrity dies, for example, they are almost always a trending topic for a day or two as people tweet and share news and remembrances.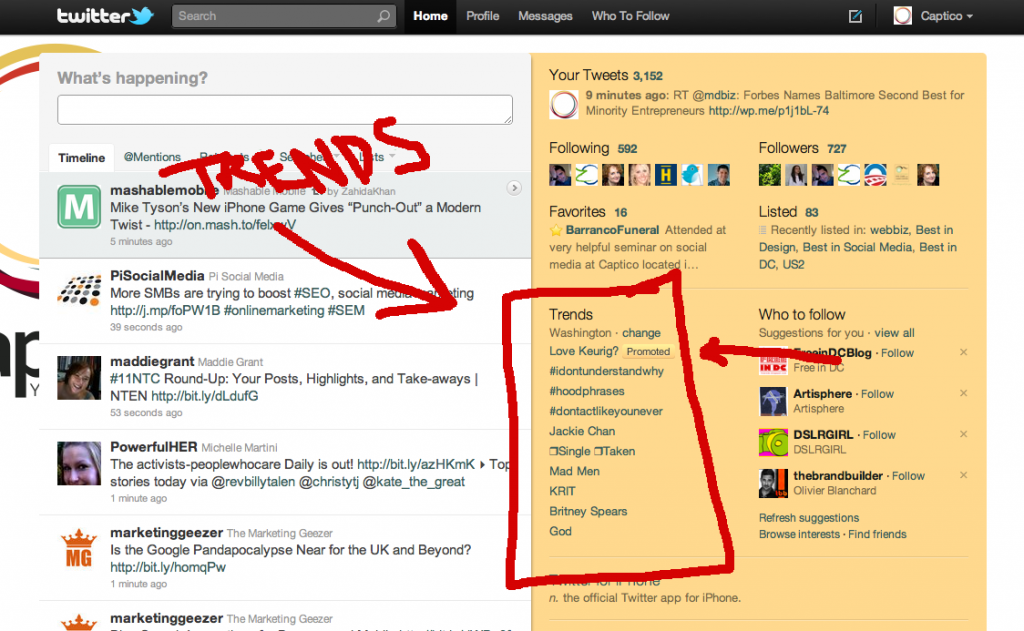 Hashtags and memes are also often dominant Trends as people jump on board participating in game-like posts or live-tweeting from a large event. In the image above actor Jackie Chan is listed as a rumor went around that he had died and then the correction that he was in fact very much alive followed. The AMC show "Mad Men" is trending as a lot of people are discussing the delay in the next season's production due to contract negotiations. At the top of the list we see the "Love Keurig?" Trend next to a "PROMOTED" graphic – letting everyone know that this trend was started by and paid for by a company. The image above is from Captico's homepage which has its Trending City set for Washington, DC (this is changeable). Here are other Trend Lists from other cities… you can see that some Trends are the same, some are different, but all of them have the Promoted Trend "Love Keurig?" at the top.
What is the "Love Keurig?" Campaign?
Clicking on the "Love Keurig? Trend will take you to a Search Results page (as if you had typed the phrase into the search box) listing everyone using the phrase "Love Keurig" in their tweets.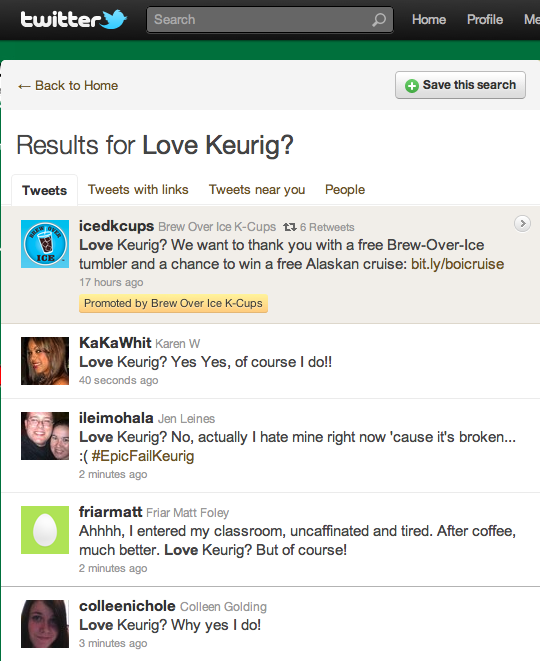 As you can see the top tweet is from icedkcups whose account is primarily being promoted with this campaign. Brew Over Ice K-Cups is the newest Keurig product and so to launch it, Keurig and Green Mountain turned to Twitter, trusting their rabid fans would be eager to spread the coffee love. And for non-keurig users, theres always the cruise. Yup. They are giving away an Alaskan cruise to one lucky winner. See the landing page they link to below: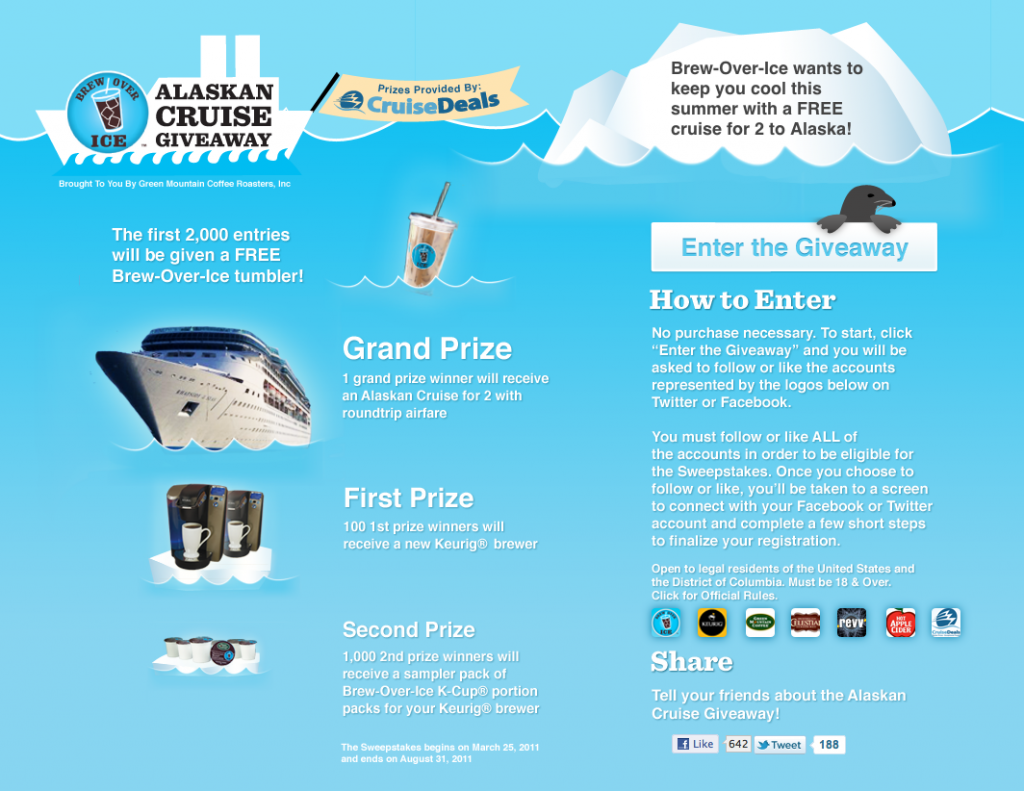 So in what turns out to be a huge social media campaign, the promoted trend leads you to the product's special twitter account, which takes you to the giveaway landing page. The first 2000 people who enter get a free "Brew Over Ice" tumbler. 1000 of those people win a 2nd place prize of a sampler pack of Brew-Over-Ice K-cups (only useful if you have a Keurig). 100 people win a 1st prize os a new Keurig brewer. 1 grand prize winner receives an Alaskan trip for two with roundtrip airfare. Sounds pretty awesome, but they make you follow all 7 of their Twitter or Facebook accounts to enter. I actually had a lot of trouble with the iframes on their site, so I didn't enter, but its a straightforward enough approach. Sure you could go back and unfollow all of the accounts after the contest ends, but I imagine they are hoping most people are too lazy to go back and do so, meaning an immediate and big audience for all of their news and product releases in the future.
Conclusion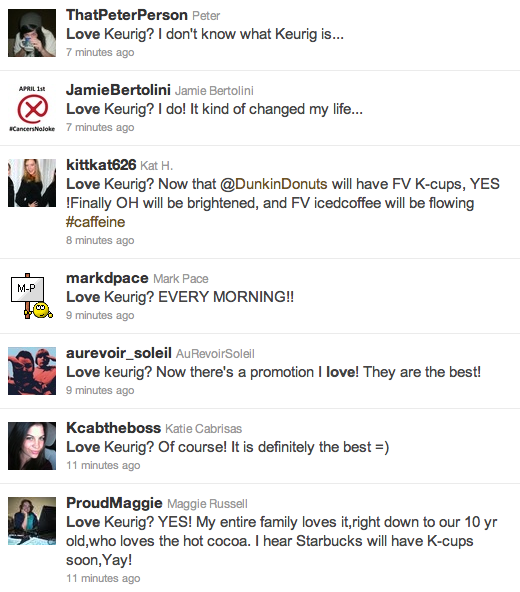 This is a great use of Twitter's Promoted Trend feature. By choosing something simple and inviting to add onto like "Love Keurig?" it encourages people familiar with the brand to engage it, sharing the tweet and thus promoting the topic, as well as hooks in curious users who have no idea what Keurig is. They are immediately drawn into the conversation, reading reviews, and seeing people who love the product. On top of all of it they offer a lot of great giveaways that people will want to try to win. Would you follow (perhaps temporarily) 7 accounts with one click for the 1/2000 chance of winning a cruise? Keurig is betting you will.
Related Social Media Articles:
Captico is happy to both set up your Facebook and Twitter accounts for you and manage them as well. Contact us if you would like more information on these services or would like to schedule one-on-one tutoring in developing your social media presence and strategy. Thanks for reading and please share any tips or advice you may have – or ask any questions – in the comments section below!
Tags: campaign, case study, Corrie Davidson, keurig, Marketing, Social Media, social networking, trending topics, twitter