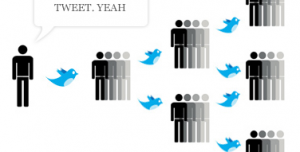 Today I came across the latest third-party attempt to monetize Twitter for advertisers. Innovative Thunder marketers Christian Behrendt and Leif Abraham have set up what appears to be a very consumer friendly way of utilizing your sphere of influence on social networks to snag free stuff. You just have to spam your friends.
But is it spam when you talk about how much you like that new pair of "insert brand name here" shoes or how much butt your smart phone kicks? People like to share what they are interested in and research continues to show that people trust the opinions of their peers more than traditional advertising.

The "Pay With a Tweet" site says this: "In today's world the value of people talking about your product is sometimes higher than the money you would get for it. 'Pay with a Tweet' is the first social payment system, where people pay with the value of their social network. It's simple, every time somebody pays with a tweet, he or she tells all their friends about the product. Boom." (And its not just Twitter, you can pay with a Facebook status update as well.)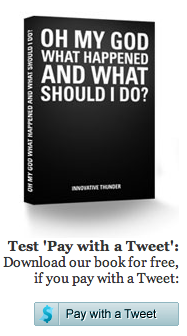 The "Pay With a Tweet" site conveniently (and smartly on several levels) provides an easy way to test out their service. You can download a copy of their book "Oh My God What Happened and What Should I Do?" for free – if you pay with a tweet. I set about testing the service out and I must say, it was easy and painless. I clicked on the "Pay With Twitter" button below the book (as seen in the picture to the right) and a window popped up enabling me to connect to my Twitter account. Once signed in, another window popped up with a prewritten tweet and the accompanying URL that would go out to my feed. The URL is not editable, but the text of the tweet itself is. (Which could be dangerous for advertisers, but I found it convenient to be able to reflect my voice and explain what it was I was doing by tweeting this book link out.)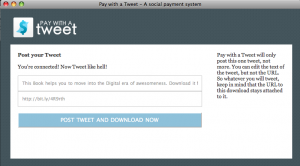 Next, another window popped up with what I had written in it to make sure that this is indeed something I wanted to do and say. I approved it, out it went to the Twittersphere, and a new window came up with a simple button to download the book- free and clear.
Now, on the surface, this seems like a great idea – especially for consumers. If you are prone to downloading whitepapers and research articles like me, then you know that most sites give this material away for free but you have to first navigate a "sign up" labyrinth where I have to give far more information that I care to take the time to share and then must subject myself to weekly or monthly spammy emails just so I could read one paper. I also almost never share this resource with others because then THEY would have to do the same thing. With "Pay With a Tweet", it is a super simple process that takes almost no time and I would be happy to share with my followers and colleagues so a tweet is something I am happy to do.
On the advertiser side, using a Tweet as opposed to a sign up process means they are not collecting user data- one of the reasons behind giving away intellectual material like a whitepaper. Without contact info on people who are interested, they cannot hope to follow up or track demographics as well. (Except of course through Twitter.) And when it comes to physical products, like samples or t-shirts or CDs, one simply has to think about all of the spam followers they get or encounter on Twitter to see the potential ramifications of people setting up hundreds of twitter accounts and abusing the system. (Perhaps in this case giving a coupon code for online purchases would be a better offer than a physical product.)
In summary, I applaud Behrendt and Abraham for getting creative and putting new applications out into the space. As a consumer, I love the idea and will be interested to see if it gains traction.
To see a "Pay With A Tweet" campaign in action, check out the band The Teenagers who are offering their new song as a free download if you pay with a tweet.
Tags: advertiser, Corrie Davidson, monetize, tweet, twitter