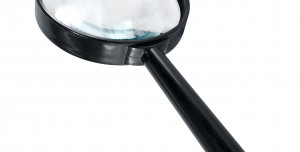 For those of us who have been using Twitter for years, small changes and adaptations are taken in stride and basic functions seem natural. So it is easy to forget (or gloss over) the nuances we have incorporated into our daily routines. This series of blog posts will take a close and explicit look at Twitter functions. Today we will look at the new ways to update your status on Twitter.


Updating Your Status Through Twitter.com

If you are logged in to Twitter.com, then the simplest way to post a status update is by clicking in the main "What's Happening" box at the top of your page. (This is the same as it was on "old twitter".) Clicking in the box expands it, adds or give you the ability to add your location, and shows you your character count. This character count is important because Twitter only allows you to post 140 characters (characters are letters, numbers, spaces, symbols, etc). You start with 140 and work your way down. If you hit negative numbers you will need to remove some of your content. Abbreviations are common, but try to keep your posts pithy and informative.
A 140 character count post looks just like this. This is precisely the amount of letters, spaces, numbers, symbols, and punctuation allowed.

With new twitter, you can now also post an update from wherever you are on Twitter. If you are deep into scrolling through your timeline or on another users page, you can click the icon in the top right of the navigation bar and a pop-up "What's Happening" window will appear. No need now to scroll back to the top or return to your twitter homepage to post!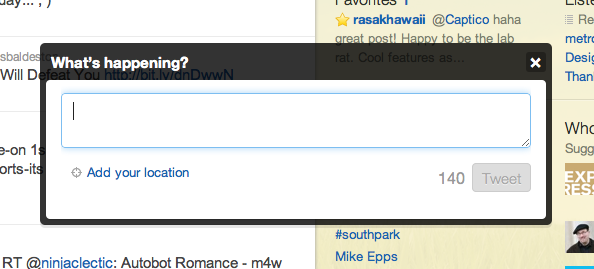 Updating Your Status via Your Cell Phone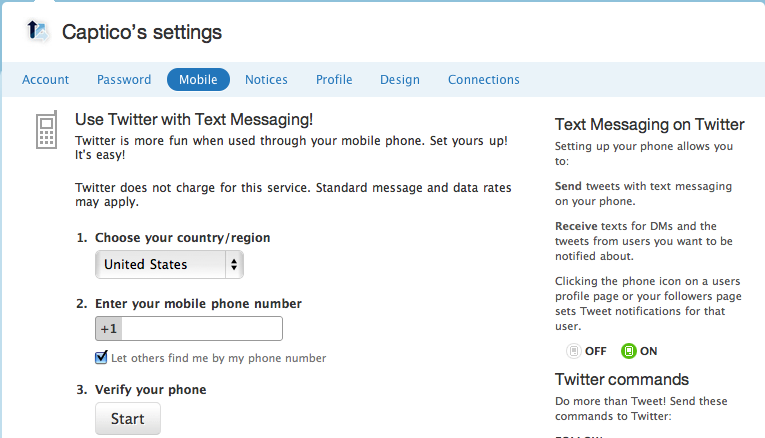 There are many, many smart phone apps that enable you to manage your Twitter account on the go, but did you know that you can also text updates to twitter (and you don't need a smart phone to do it)? Go to the Settings Tab and click Mobile. Select your country and enter your cell phone number. (Twitter doesn't charge for this, but standard text messaging rates do apply.) Setting up your phone allows you to send tweets with text messaging on your phone and receive texts for DMs and the tweets from users you want to be notified about. (Clicking the phone icon on a users profile page or your followers page sets Tweet notifications for that user.) You can even manage your twitter account via text messaging with these commands:
FOLLOW username = Start following a user
UNFOLLOW username = Stop following a user
ON/OFF = Turn all Tweet notifications on or off
ON/OFF username = Set Tweet notifications for a user on or off (you'll still be following them even if you set it to off)
GET username = Shows you the latest tweet from any user
RT username = Retweet a user's latest tweet
FAV username = Favorite a user's latest tweet
D username your-message = Send a direct message to a user
Updating Your Status via 3rd Parties
Like mobile apps, there are a lot of tools and other websites that allow you to automatically update your Twitter status based on your actions elsewhere. Sites like Facebook, Youtube, and LinkedIn can be set up to automatically post to your Twitter feed when you post or do things on their sites (and vice versa). Many blogs and news entities have Tweet buttons on their articles, enabling easy "click to share" dissemination of their stories. There are also desktop applications (and mobile) like TweetDeck, Hootsuite, and CoTweet that let you manage your Twitter account off of the official Twitter.com site – usually giving you more functionality. But these are topics for another day.
What are your preferred methods to post status updates???
Related Twitter Content:
Tags: Corrie Davidson, guide, how to, Social Media, social networking, status update, tutorial, twitter