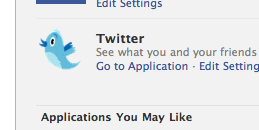 If you use a management tool like Tweetdeck or Hootsuite or Cotweet than you can already post simultaneously (and independently) to both your Facebook and Twitter Accounts. But for the casual user, being able to link your Twitter to your Facebook Profile OR a Page may be helpful. There are two ways this link can go: 1) Auto post all Twitter posts (excluding DMs and @replies) to your Facebook Page or Profile; 2) Auto post all Facebook posts, photo uploads, notes, etc to Twitter.
This guide will walk you through: Auto Posting your Twitter Updates to Facebook.
Why Do I Want To Automatically Post My Twitter Updates to Facebook?
In general, I am of the school of thought that this direction of linkage does not work as well as the reverse. The two social networks are used differently and people interact with them differently. If I follow a company or brand on Twitter and they post every day or a few times during the day – I enjoy that. If I follow a company or brand on Facebook and they are updating all the time (especially the limited content postable on Twitter) I get irritated very quickly and will either "hide" them or "unlike" them.
That said, if you don't post often or have a different audience, and like the convenience and ease of posting just to Twitter (perhaps you're on the go a lot), then this auto link may be a good way for you to keep your Facebook Profile or Page up to date without lots of log-ins. — Its also a good way for your Facebook friends to see (and then follow) that you have a Twitter account. –
How Do I Connect My Twitter Account to my Facebook Profile?
Log into the Twitter account you want associated with your Facebook profile.
Log into the Facebook account you want to link to.
Go to the Applications page http://apps.facebook.com/twitter/ (shown below — you will notice confirmation of the Twitter account you want to link to, in this case @corrietweets)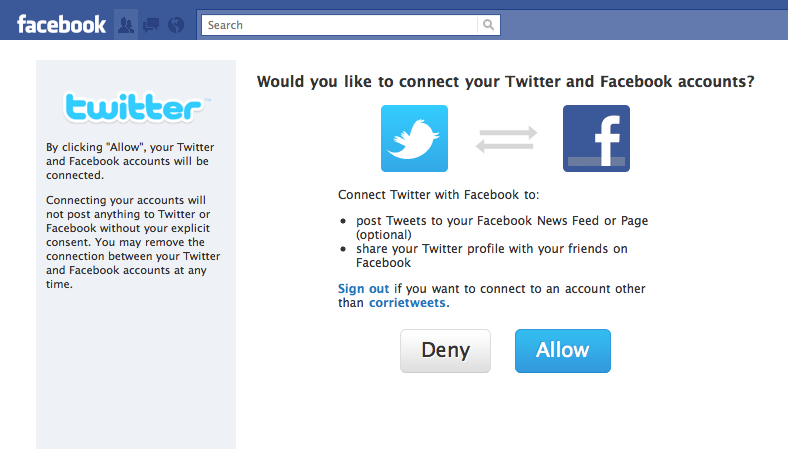 Click "Allow" — or click "Deny" if you've changed your mind (though you can always unlink later).
Now you have some options: (show below)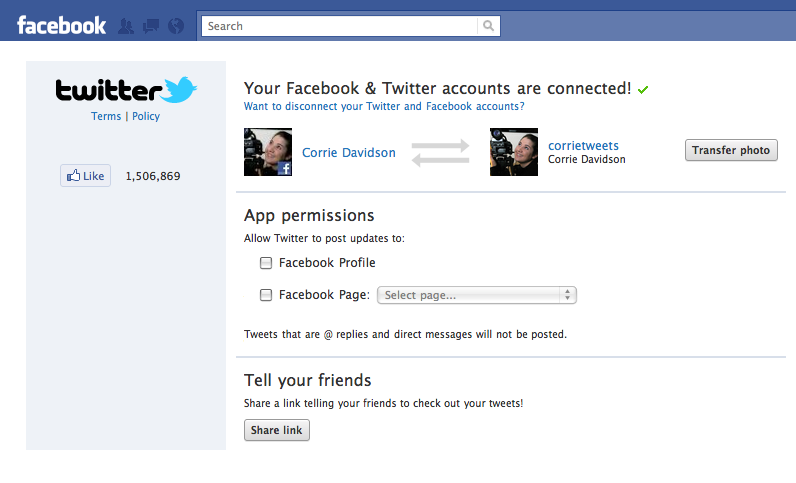 You can unlink or Disconnect your Twitter from your Facebook Profile.
You can transfer your photo – meaning always use your Facebook photo on your Twitter account.
You can select whether you will auto post updates to your Facebook Profile OR to a Page you manage.
Share a link telling people that you've linked the accounts.
How Do I Connect My Twitter Account to a Facebook "Fan" Page?
Well, first you have to be an Admin of that page. Then follow the steps outlined above, but check the "Facebook Page" box and select the desired Page from the dropdown menu.
How Do I Make Changes or Edit this Application on My "Fan" Page?
Go to your Fan Page.
Click "Edit Page" under your picture.
Click "Applications" in the left hand navigation.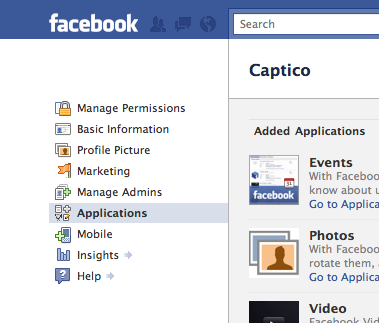 Scroll down to the Twitter Application.
Click "Go to Application"
You will be taken to the main Permission Screen where you first chose your settings.
Thanks for reading and I hope this article helps! As always, if you have any questions or comments, we'd love to see them!
Related Twitter Content:
Tags: accounts, connect, Corrie Davidson, facebook, guide, how to, link, Social Media, social networking, tutorial, twitter