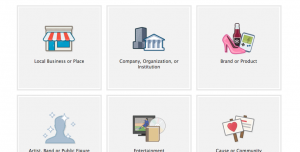 With Facebook's New Pages Overhaul now fully implemented, we decided it was time to update our old article about Creating Your Facebook Fan Page (and the subsequent Managing Your Facebook Fan Page – Basics) to better reflect the features and visual changes that you will now encounter.
Based on feedback from our recent Social Media Training Workshops for Small Businesses, we will also be releasing a series of blog posts on how to get started in social media featuring fresh new information geared toward the small business owner. As always, we love to hear your questions and help out wherever we can so feel free to leave a comment with your thoughts or inquiries!
Facebook Fan Pages / Company Pages
Pages (formerly called Fan Pages) are a way for companies, brands, products, bands, organizations, etc to have an official presence on Facebook. While you "can" create a profile page for your company, Facebook frowns upon it and will shut it down if they come across it. Profiles are for people, Pages are for everything else. Like Profiles though, Pages can be enhanced with applications, "Like" other pages, post pictures and updates, receive comments, and comment on other Pages. Pages cannot send messages to individual users though. If you send a message to a user, it will appear to come from your personal account.
Creating a Facebook "Fan" Page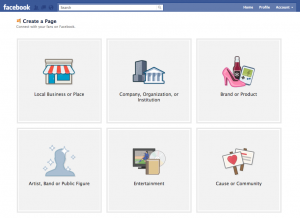 1. Go to the Create A Page Landing Page. This is accessible several ways, but the link http://www.facebook.com/pages/create.php will work easiest for now.
2. Select your Page type. Are you a brick and mortar store that people can visit, like a boutique or restaurant? Choose "Local Business or Place". Are you a business that operates out of your home or on the road? Choose "Company, Organization, or Institution". Each of the 6 types will give you different options and fields for information, so make sure you pick the best one for you. After clicking on a Type, fill in the information that type requires. (Feel free to click around and see what each type asks for initially to get you started.)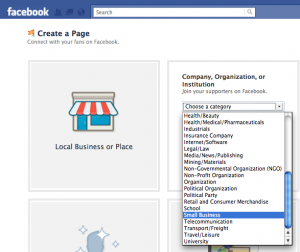 In this example I have selected "Company, Organization, or Institution" as my type, "the vague "Small Business" as my Category, and named it "Test Company". Check the "I agree to Facebook Pages Terms" box after reading it, and click "Get Started"!
3. You have now arrived at your Page. Start building it up! Add a photo or logo to be used as your avatar (profile picture). Suggest to your friends (friends of your personal Facebook profile) to "Like" of Fan your new page. Import your existing contacts from a file or from your email client in order to reach customers you arent connected with on Facebook. Post your first update! Add a Facebook Like Box to your website to encourage visitors on your website to join your Facebook Page (You will need to be able to embed HTML code on your website).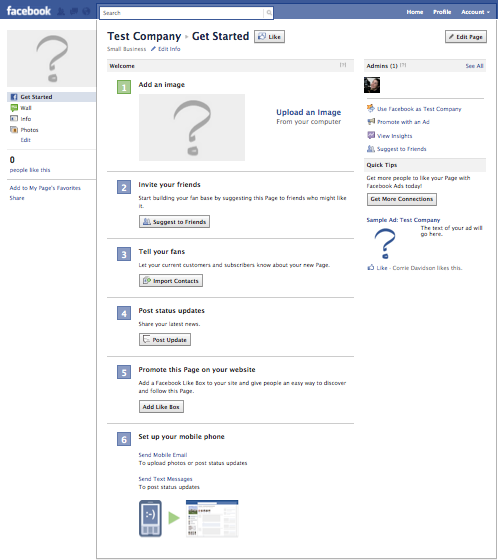 4. Edit Page.Click the "Edit Page" button in the top right hand corner to customize your page's settings, including who can post to your wall or upload photos, where you want notifications sent, and additional details about your company.
5. Congratulations! You just created your very own Facebook Page for your company or business! See, it was easy! Now create some photo albums and share pictures from events or your products or your staff. Write "notes" with longer-form information – like recipes or advice. Having an annual blow-out sale or hosting a booth at a tradeshow? Create an Event and invite your fans to it! If you're a B2B, connect with other business' pages by "Liking" them as your Page – comment on there walls, RSVP to their events. Be active, and be social!
Privacy and Admins for Facebook Pages
By creating a Page you are automatically its sole Admin. Pages can have as many admins as you would like, and I recommend having at least two as a safeguard for your Page. To give administrative control to another person, click "Edit Page" in the top right hand corner of the Page, and select "manage Admins" in the left hand navigation. Here you can remove Admin access and add additional Admins. Simply type their name (if they are connected with you on Facebook) or the email address they use to access Facebook. Be careful who you give control to though as they can access all of your Pages settings (though not your personal ones) and all posts they make to the page will appear to come directly from the page itself. They cannot, however, remove admin power from the creator of the page.
Admins are NOT made public. You can be an Admin of a page and not have anyone know you are associated with that page. You don't even have to "Like" the page. If you do wish to be visibly associated with the Page, click "Edit Page" in the top right hand corner of the Page, and select "Featured" in the left hand navigation. Here you can set which Pages that your Page "Likes" as Featured Pages on the left of your Page and you can also set Featured Page Owners – which will also appear highlighted on the left of your Page – visible to all who visit your Page.
For information on how and when to moderate comments on your Facebook Page, check out our next blog.
With social media you will get out what you put into it. Be real. Be transparent. Be authentic. Treat people the way you want to be treated and you will be successful!
Related Social Media Articles:
Captico is happy to both set up your Facebook and Twitter accounts for you and manage them as well. Contact us if you would like more information on these services or would like to schedule one-on-one tutoring in developing your social media presence and strategy. Thanks for reading and please share any tips or advice you may have – or ask any questions – in the comments section below!
Tags: business, company, Corrie Davidson, facebook, fan, guide, help, how to, page, profile, Social Media, social networking