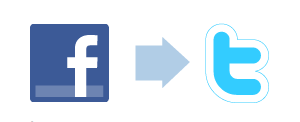 With the recent launch of Facebook's New Pages Layout for Businesses, hopefully you have found it easier to take advantage of the benefits Facebook offers both small companies and major brands alike. Previously in this blog, we covered How to Connect Your Twitter Account with Your Facebook Page, so I wanted to show you how to do the reverse. With the new Pages layout, this process has gotten incredibly simple…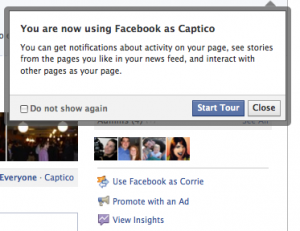 1. Go to your Page. – In this case, I've gone to the Captico page.
2. Change User - On the far right side, Under "Edit Page" and "Admins" is a link called "Use Facebook as Captico" (or your company's name). Clicking this brings up a dialog box (as shown on the right) which will allow me to navigate as use Facebook as my page (giving me the ability to comment on other pages as my page instead of as my personal profile). You can see that the link has now changed to "Use Facebook as Corrie" which I will click back to when I am done playing admin here. [If this is your first time with the new Layout, you may want to follow the Tour to see the new functions here].
3. Click the link.

Seriously. Facebook is now automatically prompting you on how to do this. It used to be a laborious and tricky process to link a Facebook PAGE to a Twitter account, but no more! make sure you are logged into the Twitter account you want your Page posts to go to, and click the "Click Here" text. You will be taken to http://www.facebook.com/twitter/ where you can select which of the Pages that you are an admin of that you wish to link to a twitter account.

4. Click "Link to Twitter" – Click the button to the right of your page and you will be taken to an authorization page like the one below. Click "Allow" and you will be redirected back to Facebook where you can customize what from your Facebook page will be automatically posted to your Twitter account.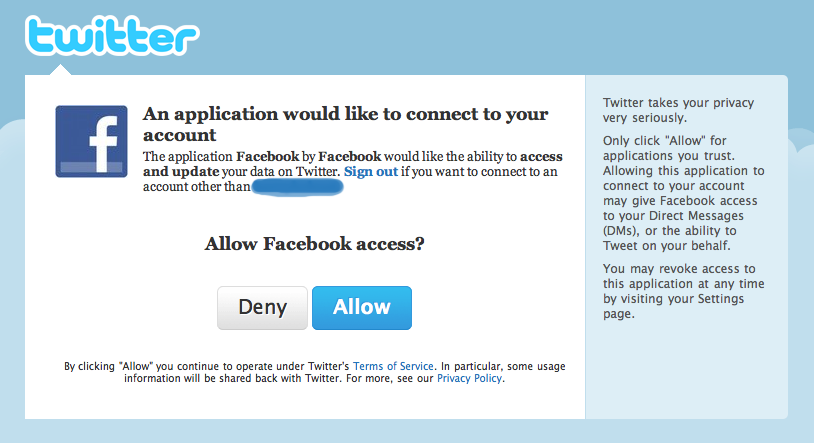 5. Edit Settings – You can always go back and change these later, but here you can customize which of your posts to Facebook will automatically go out to your Twitter account.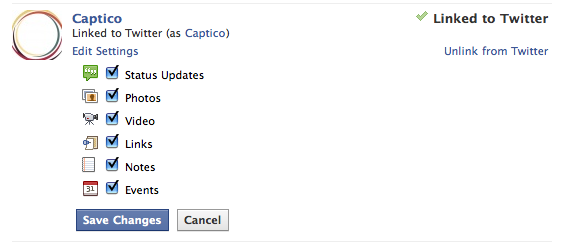 If you need help with your social media accounts or campaign, contact us today. We will meet with you and co-create a custom strategy to best market you and your business.
Related Articles:
Tags: Corrie Davidson, facebook, guide, help, how do i, how to, link accounts, Social Media, social networking, tutorial, twitter